Oct 2, '13 11:49 AM
This is an impressive bit of CAD work.
When I was in architecture school I was fascinated by two architects, Louis Sullivan and Antoni Gaudi. Many, many parallels but that's not the reason for this post. Gaudi's Magnum Opus, the Sagrada Familia, was an obsession of his late in life. It has been under construction since 1882. Yes, that's 131 years and counting (as a builder, I can't imagine the discussion with the client about schedules. I could learn a few things from Gaudi). It's a fascinating story, and if you have the time you can start here. Currently the project is about, well at best guess a dozen years from completion, but it wouldn't be the first missed deadline if that one doesn't come to pass. Anyway I'd always hoped I would live to see the completion of the project, and now finally, with the help of some awesome CAD animation I can. I'd recommend full screen mode for this one.
Stunning.
Sep 15, '13 10:19 AM

Excellent article on Biometrics: Truths and Fictions by Bruce Schneier, as well as this from Electronic Frontier Foundation attorney Marcia Hofmann on fifth amendment implications.
Sep 14, '13 12:44 PM
This is amazing to me.
Imagine, you invent a new product, something that's never been built before. You refine it, test it, challenge it, and then invent new manufacturing techniques to produce it. Then when it starts to succeed, your biggest trade partner and largest supplier decides to become your biggest competitor, rips off your designs and starts building clones. At the very same time one of your board members siezes the opportunity to waltz out of the boardroom and the company with your software, and decides to use it as the basis to develop a competing platform. While this is all happening, your dear friend, confidant, trusted sounding board and iconic leader of the company who is dying of liver cancer resigns, turns the reins over to you, and then slips away; but before he goes he (a) announces a new invention that really hasn't been cracked yet, (b) declares thermonuclear war on your competitors and makes you promise to use every last dollar fighting the war, and (c) announces plans to build a spaceship in downtown Cupertino.
Every hour of every day, in every corner of the planet, every financial journalist and wannabe tech blogger is crawling up your ass, harassing and bribing your suppliers, your workers, and your trade partners; stealing your plans and your proprietary and confidential information and printing it online (given what's available to the public God only knows what your competitors are doing behind closed doors to obtain information). The legal system around the world slogs along in a miserably ineffective enforcement of your inventions, and while justice may soon prevail, its too little too late. The financial community demands your head for not inventing new things sooner or faster, and they all seem to know your job better than you do. HFT and activist stockholders manipulate your stock on a daily basis and goad private investors to get on your case and demand bigger phones, smaller phones, tablets, phablets, TVs, watches, more colors, less colors, no colors and a cure for cancer.
Steady hand on the wheel.
Over time you commit not millions, but billions to empower, finance, train and develop new manufacturing and supply chain partners.
You slowly embark on the near-impossible task of exorcising your competitors' products from your operating system.
And on every launch day you manage to produce over 5 million devices and distribute them to the entire world, in a relatively flawless execution. Time after time after time. Do you have any concept of what is involved in doing this on that kind of scale? No you don't. Not even close. No one does. No one should feel sorry for Tim Cook. He is extremely well paid for what he does, and he should be. But Tim Cook is blowing it? Really?
Sep 14, '13 9:33 AM

RIP Ray Dolby, and many thanks to you for the years of fine audio I enjoyed as a result of your work.
Sep 4, '13 8:54 AM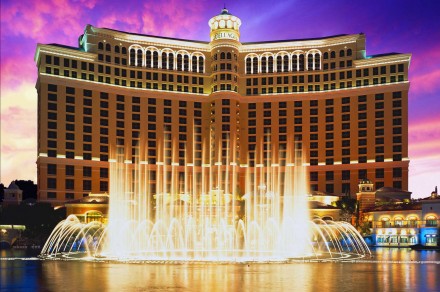 Ever wonder who created those incredible Bellagio fountains? These guys.
Aug 28, '13 4:09 PM
You want to know who's ahead of curve? These guys.
Way Ahead. Just you wait.